Quality isn't a tool–You can't install it!
Quality isn't a tool–You can't install it!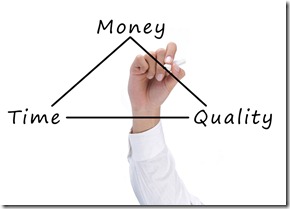 Did you ask yourself why a team in an organization produces very good software quality and another team in the same organization just struggles to get things done and those things are in really bad quality? Interesting is also that for both teams exists the same rules (methologies, procedures, tools, frameworks, etc.). But why could and does this happen?
Some people – mostly managers or vendors – try to distill quality to a recipe. Vendors could sell it expensively (with consulting) and managers can buy it to prove their bosses that they didn't make something wrong (they used the standard procedures and tools). This whole thing is ridiculous, also because it happens again and again (also with agile practices).
So, you can't buy quality, neither you can install it in your team or organization. Also it isn't a tool, which makes the quality (many managers think that frameworks guarantee quality, which is completely wrong). But why can one team be so much better than another one? So we are back to my question at the beginning of this blog post.
The only reason for this difference are the people. The people or some of them in the good team care about their profession. So they keep up-to-date (read blogs, articles, books, etc.) and leads other team members to become better. But the one of the most important things is unfortunately discipline. So you have to improve yourself constantly (keep you out of the comfort zone) and look always for improvements for you and your team. And yes, that isn't easy.
Once you are one of those people, be aware of being dogmatic, just stay pragmatic but insist on the important principles as long your arguments are reasonable.
And the managers? If they are not able to change themselves (especially the middle management), then it's up to you to change the organization – it's your career and life.